Press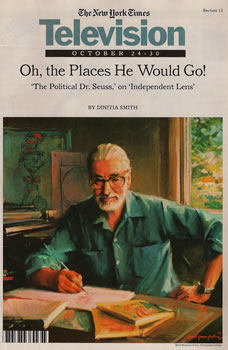 Neil Young's Film Lounge
(see The Call of the Wild in his Top 10 Films of 2007 & Best of the Decade)
San Francisco Chronicle article on The Call of the Wild
Denver Film Society review of The Call of the Wild
Talk of Alaska podcast:
"The McCandless Bus—Move it or leave it?" (Alaska Public Radio)
Interview with Ron Lamothe by the Massachusetts Foundation for the Humanities
"Live Online" discussion with Ron Lamothe hosted by The Washington Post
The Political Dr. Seuss ITVS/PBS press release Check your local listings for PBS rebroadcasts of The Political Dr. Seuss on Independent Lens (will be rebroadcast on WGBX Channel 44 in Boston in December 2007)
Interview with Ron Lamothe by the Boston University Arts & Sciences magazine.
THE CALL OF THE WILD [9 out of 10]
The short, controversial life of 'spiritual voyager' Christopher McCandless (1968-92) - focus of Jon Krakauer's 1996 book Into the Wild, recently filmed by Sean Penn's as a $15m narrative feature - is the subject of this top-notch documentary. Even audiences totally unfamiliar with McCandless's tragic, much-chronicled story will likely find themselves utterly absorbed by director/narrator/editor/cinematographer Lamothe's journey into his subject: a journey which is simultaneously geographical (he retraces McCandless's hobo-ish wanderings around the USA), philosophical (topically examining the nature of freedom in today's America) and bravely self-analytical - at several stages he measures himself against the ideals, achievements and inadequacies of his near-contemporary.
DV-camera-toting one-man-band Lamothe's proudly wayward path even crosses that of Penn and his elaborate production on several occasions - inadvertent intersections which amusingly cast Hollywood's notions of creative 'independence' in a savagely unflattering light. Frequently hilarious, consistently intelligent and, in the end, deeply moving, The Call of the Wild heralds the exciting arrival of a fresh and bold new voice in American non-fiction film.
--Neil Young