Missing Kenley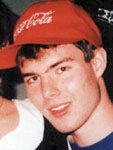 Kenley Matheson
in August 1992

On the 20th of September 1992, two weeks into his first semester at Acadia University, Kenley Matheson disappeared without a trace. There were no witnesses. There were no suspects. There were no leads. No body was ever found. And he has not been seen since. Theories abound as to what happened to Kenley that September day in Wolfville, Nova Scotia. Did he simply take off, as some—including the police initially—believed? Did he commit suicide? Was his disappearance a "Frosh Week" hazing incident gone bad? Or was he murdered, either by someone he knew or just met, or someone he didn't know but came across at the wrong place and wrong time? To this day Canadian investigators—from local PD and the Royal Canadian Mounted Police to private detectives hired by the family—are stumped by this twenty-year-old cold case.

Missing Kenley, first and foremost, will be a documentary on the Kenley Matheson case. All of the details surrounding his disappearance—and the subsequent investigation—will be re-examined, and every theory as to what happened to him will be thoroughly explored. However, the film will also delve deeply into Kenley's full life story, and the memory of him that still resides among family members and friends. Along this second track, particular attention will be given to the two motorcycle "gap years" he took before enrolling at Acadia, most notably his time in British Columbia planting trees and his travels into Central America. The film thus intends to integrate the "missing Kenley" case—his disappearance cum unsolved mystery—with that of the experiences of the people he left behind, those still "missing Kenley," the earnest and adventurous young man who once wrote, quoting Jack London, "I would rather be ashes than dust...I shall not waste my days trying to prolong them."

currently in production

Please visit our Missing Kenley Kickstarter page to find out more, and to donate to the project.